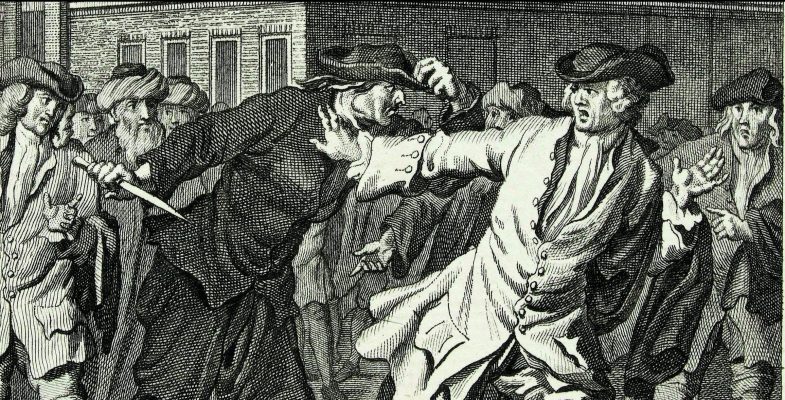 In de Nederlandse Boekengids 2016#4 (augustus) schreef Rob Hartmans in zijn terugkerende rubriek over belangrijke historici en hun oeuvres een kritische bijdrage onder de titel 'Jonathan Israel, of: het slagveld van de ideeëngeschiedenis'. Met name in zijn omvangrijke Verlichtingstrilogie (2001-2011), maar ook in andere publicaties, schept Israel een nieuw interpretatiekader waarin de Verlichting in de eerste plaats als een politieke stroming wordt gepresenteerd. In zijn bijdrage (hier terug te lezen) looft Hartmans het werk van Israel, maar herhaalt hij ook de vaker gehoorde kritiek dat Israel zijn interpretatiekader bij tijd en wijlen té rigoureus toe zou passen. Een repliek van Jonathan I. Israel, gevolgd door een dupliek van Rob Hartmans.
"Disagreement is the stuff of academic and intellectual life and there is nothing wrong with heartily diverging on major intellectual questions. But something is definitely wrong when one side to the disagreement misrepresents the other with such a display of inaccuracy and distortion that it gives readers an altogether misleading impression of what the other side is arguing. This brings me to Rob Hartmans's essay in the Dutch Review of Books (dNBg 2016#4, dated 27 August 2016). In reporting my argument, Hartmans achieves an astounding level of inaccuracy.
---
Ingezonden brief uit dBNg 2017#1, in reactie op:
Beeld: detail van Spinoza bedreigd door een woedende menigte te Amsterdam, 1667, Noach van der Meer (II), naar Jacobus Buys, 1784 ()
---
According to his essay, I argue that the authors of the Terror in the French Revolution, Robespierre and his allies 'behoorden niet tot de radicale maar tot de Gematigde Verlichting.' Readers need to note that this is totally wrong. On the contrary, the ideology of those responsible for the Terror, I contend, was highly intolerant, permitted no criticism of the regime or freedom of expression, and rejected all Enlightenment values forming a key strand of the populist Counter-Enlightenment. Explaining this incorrectly is not just a mistake on Hartmans's part but a fundamental distortion since the entire argument of my volumes Democratic Enlightenment and Revolutionary Ideas is built on the thesis that Robespierre, Marat and Montagne rejected outright the values of the democratic republicanism of the Brissotin early French Revolution (1789-93) – and also the values of the moderate Enlightenment – and did their best to destroy the intellectual and political legacy of both.
* Abonnees lezen meer. Neem ook een abonnement! *

Lees verder →